Froyo Face-Off: Orange Leaf vs. Menchie's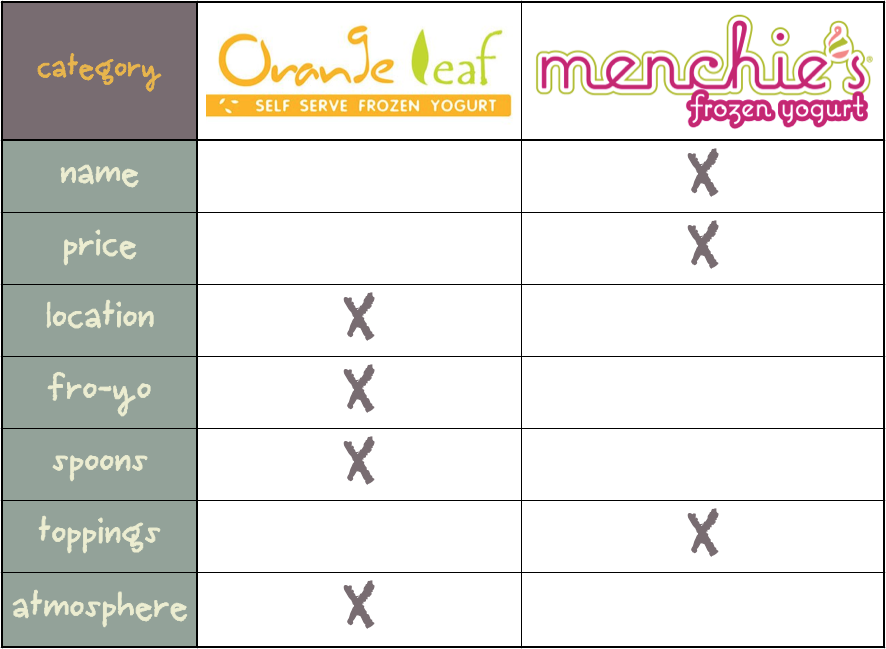 While we keep searching for Rooney's owner manual, here is a lighter post that was written pre-baby for your enjoyment. Thank you for all your comments and emails regarding Kelsey's baby blues. The healing begins as we are honest with ourselves, our families, our readers and our midwives. Things get better with each day, and we hope to be back to regular blogging sometime in the near future.
Frozen yogurt shops seem to be all the rage these days.
There are a handful of fro-yo franchises that entered our neck of the woods recently, two of which we have tried.
I looked it up, and Orange Leaf and Menchie's opened within a few weeks of each other in West Des Moines last fall. (We're a little late to the craze.) They are self-serve frozen yogurt shops with futuristic branding/decor and offer a new way for us to enjoy the tasty cold treat known to hipsters as "fro-yo."
While we were waiting for Rooney to arrive, we made a conscious effort to make the most of our time left as a family of two. So when Kelsey's parents visited a few weekends ago we checked out Orange Leaf for the first time. And then, when we had his and her haircuts last Thursday night, and Kels said that she was hungry, we decided to give Menchie's a try. They really make for great date night spots!
So it's only natural that we compare the two, right? That we give an honest assessment of our not-so-scientific findings on these two fine fro-yo establishments.
This is based simply our opinions from one visit to each location. Try them for yourselves and let us know what your thoughts are.
Explanation
Name: Although neither name really tells you what kind of a business they are, Menchie's just sounds cooler to us. We have a friend at work who adores Menchie's. Her and her husband have adopted the fun phrase, "Did someone mention Menchie's?" You can't really do that with Orange Leaf...
Price: It's a subtle difference, but if you're a bargain fro-yo shopper you will want to go with Menchie's. Menchie's charges 44 cents per ounce while Orange Leaf charges 45 cents per ounce (how can they sleep at night?).
Location: In the West Des Moines area, Orange Leaf has the lock-down on the location. They are in the very hip and ever-developing Jordan Creek Shopping Center area. Menchie's isn't in a bad location, but simply not in as great of a place as Orange Leaf.
Fro-yo: Hands down, no contest: Orange Leaf has better fro-yo. It's SO STINKING smooth. I can't stop thinking about it. Menchie's fro-yo is good, but can't hold a candle to the silky smooth taste that Orange Leaf offers. Plus, Orange Leaf has about 25% more options when it comes to choosing your fro-yo flavors of choice.
Spoons: Orange Leaf wins with their shovel-shaped spoons. They're very cool, and small details like that just make us smile.
Toppings: Menchie's has a wider variety of toppings and they are nicely labeled, which helps with some of the obscure toppings that they offer. Orange Leaf just assumes you know what crushed Oreos look like. (Kelsey would like to state for the record, though, that while Menchie's has a larger variety of toppings, they don't carry her very favorite...NERDS. Orange Leaf does, however...)
Atmosphere: Both places carry a futuristic atmosphere that makes me question whether Dippin' Dots are really the ice cream of the future anymore (that's another discussion for another day). Orange Leaf has a lot more seating, TVs on the walls, couches, and low-profile tables and chairs that just make it seem cooler.
And with that, you have our opinions and comparison between Orange Leaf and Menchie's. Given the choice, we would choose Orange Leaf every time.
Have you tried either place? What are your thoughts?